At Toronto's Bata Shoe Museum, footwear opens a window on the lives and lore of peoples throughout the ages.
Footnotes-Outer row, from left: Embroidered silk shoe (c. 1860) from China for bound "lotus" foot; black lacquer wooden clog with tatami insole from 19th-century Japan; elevated traditional Korean clog; knee- high boot worn by Tibetan lamas and noblemen; Inuit sealskin kamik; 19th-century Middle Eastern woman's stilt sandal; man's shoe with upturned toe from Iraq; Senegalese leather mule; concave rawhide sandal (c. 1900) from Uganda; painted wood and leather Bolivian sandal. Inner row, from bottom left: Handmade wingtip brown oxford (1995); shoe with fanciful elongated tip made for upperclass men in India; pom-pommed mules worn by Pakistani women for traversing sand dunes; contemporary catfish-skin shoe from Iceland; Zairian royal sandal with carved toe knob; elegant black suede pump by famed Italian designer Salvatore Ferragamo.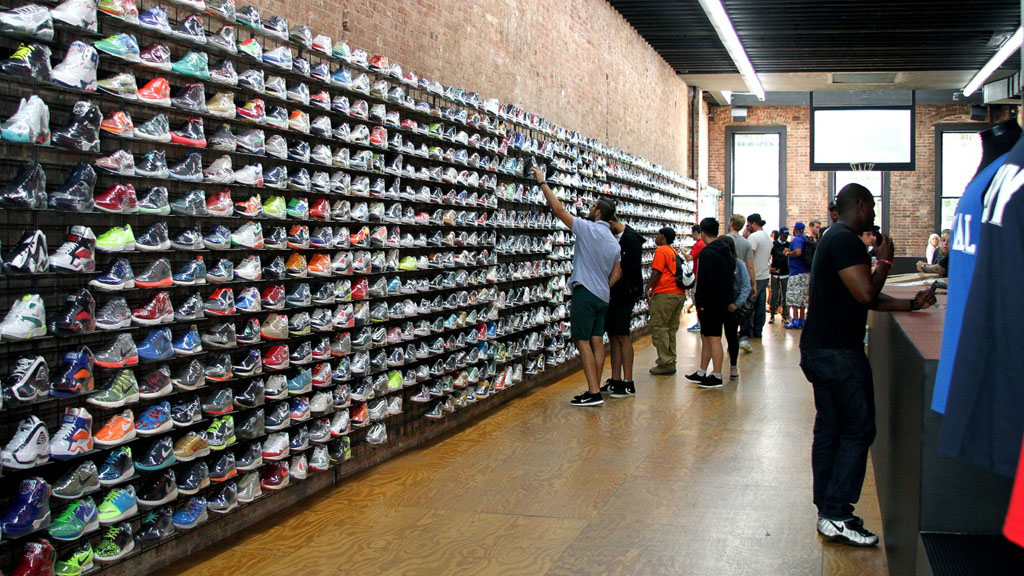 Clad in a designer suit and a soft silk scarf, sonja bata looks like she shops in the exclusive boutiques of Toronto's Bloor Street, not on an icebound island in the Canadian Arctic or in the dusty market towns of mountainous Tibet. But Bata, businesswoman, philanthropist and founder of North America's largest and most comprehensive shoe museum, will go just about anywhere to get the right shoe.
In 1992, she traveled by chartered plane to the Arctic community of Grise Fiord on Ellesmere Island, one of the most remote, punishing places on earth. "I'd heard of an elderly Inuit woman there who was known for making bearded sealskin boots, or 'kamiks,' the traditional way," says Bata. "I was told that she even used sinew for the stitching. Nowadays many women use dental floss. Of course I wanted to commission a pair for our collection."
Bata found the old woman without difficulty. "She was very wrinkled, with bright-black eyes," Bata recalls. "And she kept completely silent while her daughter translated my proposal. She looked so serious I was sure that she would turn me down. Then all at once she started to roar with laughter. Her daughter joined in, and I did, too. Finally the old lady wiped her eyes and spoke, pointing to her mouth. The daughter translated: 'My mother says that chewing the sealskin is very hard. Therefore her price to make the boots is a new set of teeth!'"
That unusual bargain, though apparently made in jest, is just one of many that Bata, a collector of footwear both ordinary and extraordinaire, has struck during more than 50 years of far-flung forays aimed at amassing the superb collection now housed in the Toronto museum that bears her name. Opened in May 1995, the Bata Shoe Museum celebrates footwear and shoemaking not as a footnote to fashion but as a window on human history. Its collection includes such treasures as woven funerary shoes from a royal tomb in ancient Thebes, 15th-century German foot armor, Queen Victoria's mourning boots and a rare pair of Inuit boots made of eider skin. Also featuring such crowd- pleasers as Picasso's zebra-striped boot and Madonna's hot-pink platform pumps, the museum has gained international attention for its provocative, sometimes irreverent treatment of an offbeat subject.
Explaining how she came to acquire more than 10,000 orthopedic shoes for plantar fasciitis and related artifacts that span 5,000 years and represent every continent on the globe, Bata says simply, "I married a shoe man." Her husband is the international shoe manufacturer and retailer Thomas Bata. The Batas, for generations the village cobblers of Zlin, Czechoslovakia, had made their fortune by mechanizing their country's shoe industry, ultimately developing the firm into a world supplier of footwear. In 1939, as the Nazis advanced across Europe, Thomas Bata relocated the company to Canada.
When the couple wed in 1946, Sonja was studying architecture in her native Switzerland. It wasn't long, however, before she became involved in helping her husband rebuild the family business. On visits to company plants around the world, she applied her interest in design to product development and to adapting traditional footwear for mass production.
Realizing that local styles were losing ground to Western ones, Bata began gathering shoes to preserve the technological and cultural heritage they represented. When the collection overflowed the archives of the Bata company's Toronto headquarters, she decided to create a museum that would do justice to the collection and enrich the city.
Designed by Canadian architect Raymond Moriyama, the five-story, $12 million museum is a striking structure often likened to a shoe box with its lid ajar. Entering the building through a two-story-high transparent wedge, visitors find themselves in an airy atrium. A graceful staircase with a glass balustrade sweeps from the basement to the fourth floor, and light pours in through a tall window that soars the entire height of the building's south wall.
This morning the museum's founder is ensconced behind a shoe-shaped reception desk, greeting visitors and directing traffic. "Footwear tells the whole human story," she says in a rare quiet moment. "It's all there, from the animal hides that prehistoric cave dwellers wrapped around their feet to the high-tech boots worn by astronauts." Surveying an incoming group with pleasure, she adds, "I know people arrive thinking 'What kind of wacky place is this, a footwear hall of fame?'" Then she breaks into a wide grin. "They leave saying shoes are more interesting than they ever dreamed possible. That's my mission."
At the entrance to the museum's main exhibition, "All About Shoes," is a plaster cast of the oldest known hominid footprints on earth, dating back 3.6 million years. The originals were discovered by the anthropologist Mary Leakey in Tanzania in 1978. Easily mistaken for any seen on a beach today, the prints aptly set the stage for an exhibition about footwear through the ages-its myriad guises, exotic uses and ancient past.
Prehistoric footwear scarcely appears in the archaeological record. The first crude foot wrappings were likely intended as protection from harsh terrain and cold weather, and were probably improvised from bark and other plant materials. It's possible that the sharp flint tools found in late Stone Age sites some half-million years old were used to prepare animal skins as coverings for the body and feet. But leather decomposes quickly, and until recently the most direct evidence of such apparel were drawings made by cave dwellers in the Pyrenees some 15,000 years ago. Two recent discoveries, however, have added many more details.
In 1991, hikers crossing a glacier in the Italian Alps happened upon the protruding head of what turned out to be the virtually intact body and clothes of a 5,300-year-old hunter now known as the "Iceman." The find gave scientists a firsthand look at late Stone Age attire. Complementing a finely designed coat of animal skins and fur, the man's ingeni0us leather shoes had an upper flap sewn onto a bottom sole, with a socklike net liner and laces made of grass rope. He evidently stuffed the net with grass for insulation, wriggled his foot into it and tightened the laces, molding the grass around his foot to prevent it from slipping.
It was dry conditions, rather than glacial ice, that pre-served a trove of slip-ons and padded sandals left behind by generations of prehistoric Native Americans who once took shelter in a Missouri cave. The fragile grouping, skillfully crafted of woven plant fibers, was unearthed four decades ago, but it was not until 1997 that surprised scientists were able to determine that several of the shoes dated back 5,000 years or more. The oldest, an 8,300-year-old thick-soled sandal with decorative braided cords that crisscross the foot, would look right in step today on Miami's South Beach or France's Cote d'Azur.
Shoemaking is one of the oldest crafts in the world. In virtually every early civilization skilled craftsmen plied their trade using handtools and techniques that were to remain essentially unchanged for thousands of years. The sandalmakers depicted in wall paintings found in the tombs of Egyptian pharaohs, for instance, could easily have shared the workbench on which their itinerant Colonial American counterparts made stout farm boots five millennia later.
Over the centuries, shoes have undergone countless changes in style, form and function. These changes speak volumes about the lives of the people who wore them and the societies in which they lived. Shoes were used not only for work, sport and play or to make a fashion statement, but also to mark special occasions, display status and even express religious beliefs. In ancient Egypt, Greece and Rome, shoes were an established symbol of rank and worn mainly by the rich and powerful. "How beautiful are thy feet with shoes, O prince's daughter!" reads a passage from the Bible's Song of Solomon. In the Yoruba culture of Nigeria, royal status was indicated by the quantity of beads and patterns on boots. In America, the Iroquois made plaited corn-husk slippers to be worn by the dead in funerary rituals. At the height of the Victorian period, genteel women were expected to wear sweeping skirts and crinolines to hide their feet, which modesty demanded be confined in ankle-high boots lest a glimpse of uncovered skin be revealed.
In the early 14th century, shoes with comically long pointed toes were all the rage. Although it seems more appropriate to a court jester than a gentleman, this fashionable men's style was no joking matter and ultimately forced King Edward IV of England to put his foot down. In 1463 an edict was issued decreeing a 6-inch toe for commoners, a 12- inch toe for gentlemen and a 24-inch toe for nobility. According to some sources, the elongated points of nobles' shoes were sometimes attached to a chain worn at the shin to keep the titled wearer from tripping over them. The style endured for two centuries, despite the church's disapproval of the shoes' suggestive shape.
Another British monarch, it is believed, was responsible for establishing the standardized foot measure. In 1320, Edward II decreed that the measurement should equal a row of 36 barleycorns-the actual length of his own foot. Each barleycorn was one third of an inch, which added up to 12 inches or one "foot."
For most of history, fashionable footwear was the preserve of the well- to-do. Everyone else thought themselves lucky to own a single sturdy pair of work shoes; the poorest people often went barefoot, as many still do in some parts of the world. All that changed when a host of principally American inventions mechanized shoemaking in the 19th century, displacing handwrought shoes with cheaper, factory-made products. Suddenly even those of modest means could own a small footwear wardrobe.
The shoes of our time often hark back to earlier eras in surprising ways, yet tread new ground. The outlandish platform shoes used on stage by rock stars such as David Bowie and Madonna recall shoes worn in Greek theater of the fifth century b.c. Wanting the tragic heroes in his plays to loom larger than life, the dramatist Aeschylus required that his actors all don shoes with thick cork soles.
No longer defined by the narrow tastes of a ruling elite, today's footwear fashions are driven by popular and street culture. The 1973 film American Graffiti sparked a short-lived revival of saddle shoes, the de rigueur high school fashion of the 1950s. Punk subculture in the 1970s and '80s transformed the Doc Martens work boot into a hot fashion item. Meanwhile, handcrafted shoes have come full circle and are now, as they were in ancient times, a luxury reserved for royalty and their ilk. Prince Charles is shod by the British bespoke shoemaker John Lobb, while Arab oil princesses are kept in handmade shoes by craftsmen such as Rolando Segalin of Venice.
The Bata Shoe Museum explores all these themes with a deliberately playful touch, says the museum's former curator, Jonathan Walford. Genial and bearish in his rumpled corduroy jacket, Walford worked with Sonja Bata for 11 years before leaving the museum to launch his own consulting business. A charming guide to the collection, he takes the inherent humor in his occupation very seriously. "Did you ever watch the sitcom Boston Common, which aired a few seasons back?" he asks. "The resident nerd was a character who worked as a researcher in Early American footwear. He's forever spouting shoe esoterica, most of it complete drivel. It seems to be part of our culture that footwear is seen as necessary but somehow frivolous. That paradox is what the museum plays on."
This particular afternoon the actor David Carradine is about to formally present the museum with the shoes he wore in a scene from the television series Kung Fu. A small crowd, dominated by the mostly female members of Carradine's Toronto fan club, claps mightily at the arrival of the star, dressed for the occasion in black tails and scuffed white sneakers for bunions. His gift is a pair of pale beige Capezio dancing shoes, specially fitted with nonslip soles. "Dancers like to slide; martial artists don't," he explains, demonstrating a high kick that nearly grazes a curator's nose. "They tell me that of all the people whose shoes are in this museum, I'm one of the few who actually showed up to donate them in person," he quips; "but I guess it was hard to get a commitment from Elvis or Napoleon."
Elvis, it turns out, is represented by a pair of blue-and-white "wet- look" patent loafers (p. 121), but the museum owns no shoes or boots worn by Napoleon. It does, however, possess a pair of the French emperor's black silk socks, saved after his death on St. Helena. Walford points to a minute pile of dirt displayed alongside the socks. It is the leavings from the wash water when the socks were conserved. "That dirt is famous among Napoleon buffs," he says wryly. "Several conspiracy theorists have asked to analyze it for traces of arsenic."
The display will soon be enriched by a recent acquisition-an original order for new boots penned by Napoleon's arch foe, the duke of Wellington, shortly before the two men faced each other at the Battle of Waterloo. Though that confrontation marked Napoleon's downfall, when it came to shoes the French emperor obviously took no chances. His custom was to have servants break in his new boots before he wore them. And Napoleon wasn't the first French ruler to demand special treatment for his footwear. Before losing her head to the guillotine in 1793, Marie Antoinette employed a servant whose sole duty was looking after the monarch's 500 pairs of shoes.
Although the notorious 3,000-pair collection that Imelda Marcos accumulated as first lady of the Philippines may not be the largest in the world, it probably comes close. That collection became the property of the Philippine government, but after Marcos left the country, the museum acquired a pair of elegant black satin evening sandals once owned by the former shoe queen.
A rich and varied educational program accompanies the museum's exhibitions, covering topics that range from shoe and foot fetishism to the role of shoe prints in crime detection. Recently, museum staff did a presentation about shoes and horticulture. Among the items shown were Dutch wooden clogs with flat bottoms to tamp the earth for tulip planting, and from Japan, a three-foot-high stilted platform shoe worn to pick mandarin oranges.
One group of sixth-graders has come here as part of a social studies project on the 1960s, explains their escort, museum docent Robert Barron. The children gather around the display "What's My Line?" which shows how unusual occupations have given rise to singular shoe styles. A prototype boot that the Bata shoe company developed at the request of the U.S. Army during the Vietnam War is an instant hit. Produced at a company factory in Maryland, it features a molded sole that leaves the imprint of a Vietcong sandal, camouflaging the American soldier's tracks.
The '60s momentarily forgotten, a boy gapes at an object bristling with nine-inch-long serrated iron spikes. Not an instrument of torture, the wooden clog was used to crush chestnuts in 19th-century France to extract tannin for use in the leather industry. In contrast, a man's colorful sandal from Bolivia looks harmless enough, its true purpose artfully concealed. Equipped with metal toe tips and hobnailed soles, it is in fact a lethal weapon designed to be worn in duels. Not included in the exhibition, but equally intriguing, says Walford, is an Australian shoe of human hair and emu feathers once worn by an aboriginal executioner. In traditional aboriginal society, people went barefoot. Executioners apparently wore such ritual footwear to disguise their footprints and protect their anonymity.
"What about hippie shoes?" asks a pigtailed girl as Barron leads his charges to an installation entitled "The Height of Fashion"-a wide spiral staircase with the creations of famous footwear designers adorning every step. The children stare at a pair of "Flower Power" sandals created in the late '60s by American designer Beth Levine. With soles lined with bright-green synthetic grass and a yellow chrysanthemum toe strap, the sandals look like they stepped right out of an Andy Warhol painting. As the class troops off to its next stop, a display of '60s-era disco boots, complete with music, Walford points out the work of two designers who made fashion history on foot. Salvatore Ferragamo, inventor of the wedge heel, is represented by a bright-red sling-back with an upturned black-and-gold kid toe from the mid-1940s. The whimsical comma-shaped heel on a bejeweled pink silk pump from 1963 is the work of Roger Vivier, once a leading designer for the House of Dior in Paris.
Continuing his running commentary, Walford paraphrases Brillat- Savarin's famous gastronomical maxim, proclaiming, "Show me your shoes and I'll tell you who you are." The red high heel is the tip-off for an aristocrat's shoe from late 17th-century France; it tells us that the shoe was worn only at the court of Louis XIV. The term "well-heeled," in fact, originated from the upper-class fashion of high-heeled footwear. The elite of late Renaissance Europe favored costumes that made them look more imposing. Elevated shoes gave them a literal leg up on their social inferiors while protecting their feet from the muck of the street. The high heel, which came into vogue around 1600 and was worn by both men and women, had evolved from the chopine, an earlier platform style that had been popular in the East for centuries and arrived in Europe through trade between Turkey and Venice. Adopted by wealthy Venetians, the style in its most exaggerated form made the wearer, who often needed the assistance of two servants to stay on balance, appear as much as two feet taller. The elite scorned the fashion as it filtered down to the lesser classes. Last to wear the chopine were the street prostitutes of Venice, who wanted to stand head and shoulders above the competition.
An exquisitely embroidered silk slipper displayed nearby represents an extreme example of foot mutilation perpetrated in the name of beauty. Measuring just three to five inches in length, such slippers once covered a woman's foot crippled by the Chinese custom of foot binding. Initiated in the royal courts of the tenth century, the painful procedure was finally banned in 1911. The resulting "lotus" feet, as they were called, looked like tiny hooves and almost immobilized a woman. A symbol of high status, they were also considered powerfully erotic. Of course, the practice of deforming the foot in the name of beauty is still very much with us. A recent survey found that about 45 percent of American women wear shoes that are too small, and the pointy-toed high-heeled pumps preferred by many women are a frequent cause of bunions, strained leg muscles and back pain.
Some of the plainest shoes on display at the Bata have the most dramatic histories. A case in point is a drab, crudely made brown boot with rough leather ties. Part of a grouping called "Shoes and Religion," it is a halizah shoe. According to an ancient Jewish custom, an unmarried brother-in-law of a childless widow is obliged to marry her. In the halizah ritual, by publicly untying and removing his shoe, she can release him from this duty. Also compelling is an ivory sandal from India that belonged to a follower of the Jain religion, a main tenet of which is the preservation of all life. Designed to make minimal contact with the ground, its sole rests on a thin-sided hollow platform about two inches high, helping its wearer to avoid crushing insects underfoot.
Nearby are a pair of cowboy boots donated to the museum by the actor Robert Redford. Fittingly, Redford's boots owe more to the Hollywood film industry than the Old West. Their dandyish stacked heel, pointed toe and decorative punchwork and stitchery were inspired by the Spanish tradition of fancy equestrian leather gear. A boot with a tapered toe slid easily into the stirrup, and the raised heel helped it stay there. The style made its way from Spain to Mexico and from there to the United States, where it was popularized by Tom Mix westerns during the 1920s. As for the real cowboys, they rode the range in boots of the type worn by Civil War soldiers, with a low heel, loose-fitting shaft and square toe.
A sleek red-and-black running shoe worn by track-and-field gold medalist Donovan Bailey at the Atlanta Olympic Games in 1996 exudes its own cachet. Through highly paid product endorsements, celebrity athletes like Bailey and Michael Jordan helped push the mania for designer athletic shoes that gripped North America in the 1970s and reached tsunami-like proportions over the next decades.
"At the height of the boom, pretty well every grade-school kid and teenager, not to mention their parents, were victims of 'sneaker snobbery,'" says Walford. "If you didn't have the model with the latest color scheme or the flashing lights or the gel-padded soles, you were toast." Few of these aggressively marketed features improved much on the original sneaker-a flexible, rubber-soled cotton-canvas shoe with laces that was created in England in the 1860s for the newly fashionable sport of croquet.
"Now we look back at the sheer silliness of some of the styles and laugh, but the craze has left its mark," Walford says. "Because they're so comfortable and affordable, sneakers have become casual streetwear for everyone." Nor is this fashion a spent force. Ironically, the trend in North America is back to basic, simple styles that look rather like the original croquet shoe.
An installation called "Star Turns" is the museum's biggest crowd- pleaser. A glitzy array of celebrity footwear is displayed on a stage under a flashing marquee; behind it, a screen shows vintage newsreel and film footage about the shoes' original owners. Here a pair of low- heeled black pumps worn by Indian prime minister Indira Gandhi share the spotlight with Marilyn Monroe's saucy red stilettos. Here, too, are Elton John's outrageous rhinestone-studded platforms. "Elton said they were too dull for stage wear, claiming he only wore them shopping," Walford grins. "But we have a photograph of a 1974 concert that shows the good shoes for high arches right there on his feet." The only item that rivals Elton's platforms in popularity, it seems, is a fuchsia pump made c. 1985 for Diana, Princess of Wales.
"All About Shoes" is complemented by exhibitions in three smaller galleries with more specialized themes. The bearded sealskin kamiks that drew Sonja Bata to Ellesmere Island were destined to enrich the Indigenous Gallery, a showcase for the museum's remarkable collection of some 500 traditional handmade boots gathered from across the Arctic Circle. Essential to survival in a harsh environment, the boots have been made using traditional styles, materials and techniques, many never previously documented.
A magnificent feathered boot represents one group's response to the dwindling seal herd in their locality. Deprived of hides, the women fashioned boots from virtually intact eider-duck skins. "Even the Inuit who've seen the boots we have here are amazed," says Walford.
Changes are afoot as the Bata Shoe Museum plans for the future. A new director, Sharon McDonald, has joined the staff. McDonald, formerly the head of the Metropolitan Toronto Police Museum, jokes, "I used to work with gumshoes, so I fit right in." The museum's first director, Edward Maeder, a former chief curator at the Los Angeles County Museum of Art, has moved on to other projects but still serves the Bata as a consultant.
Although the museum will continue to collect shoes and related objects from around the world, Sonja Bata's aim is to make it a center of footwear scholarship, with an emphasis on Native American and circumpolar footwear. "Our fieldwork yields insights into indigenous cultures that are not widely known," says Bata. "Preserving footwear helps enlarge our knowledge of a disappearing way of life."
The museum's newest exhibition, "Paduka: Feet and Footwear in the Indian Tradition," opened in September. For Sonja Bata, the show has special meaning. It was during her early travels in India and Pakistan as the young wife of a shoe magnate that her fascination with traditional footwear took root. "In those days I collected intriguing shoes right off people's feet," she laughs. "I would trade a brand-new pair from our factory in exchange." Some of her first acquisitions were proudly displayed in her Toronto home. "Other people put porcelain bowls and such on their shelves," Bata recalls. "Mine were filled with Indian padukas-ivory-and-silver platform sandals with superbly shaped knobs that fit between the wearer's toes. To my eye, nothing could be more beautiful." For a second, the footwear museum founder sounds faintly abashed. "I'm afraid I just get carried away with shoes."